Cross laminated timber – the ecological and versatile solution
Cross laminated timber (BSP) are solid wooden elements. They consist of crosswise stacked and glued boards. The glue used is less than 1% of the total product, which makes GNP an ecological and extremely versatile building material.
Deployment:
BSP optimally insulates sound and heat and has high strength due to its solid construction. The transversely bonded layers allow loads to be transferred in two directions, which was previously only possible in reinforced concrete construction. This enables new dimensions in the field of architecture and design in timber construction. The high inherent stiffness helps to brace a building. It is suitable for load-bearing and non-load-bearing roof and ceiling elements, as well as interior and exterior walls. The shoring provides almost unlimited possibilities and can be easily combined with other building materials. This makes BSP an extremely flexible building material.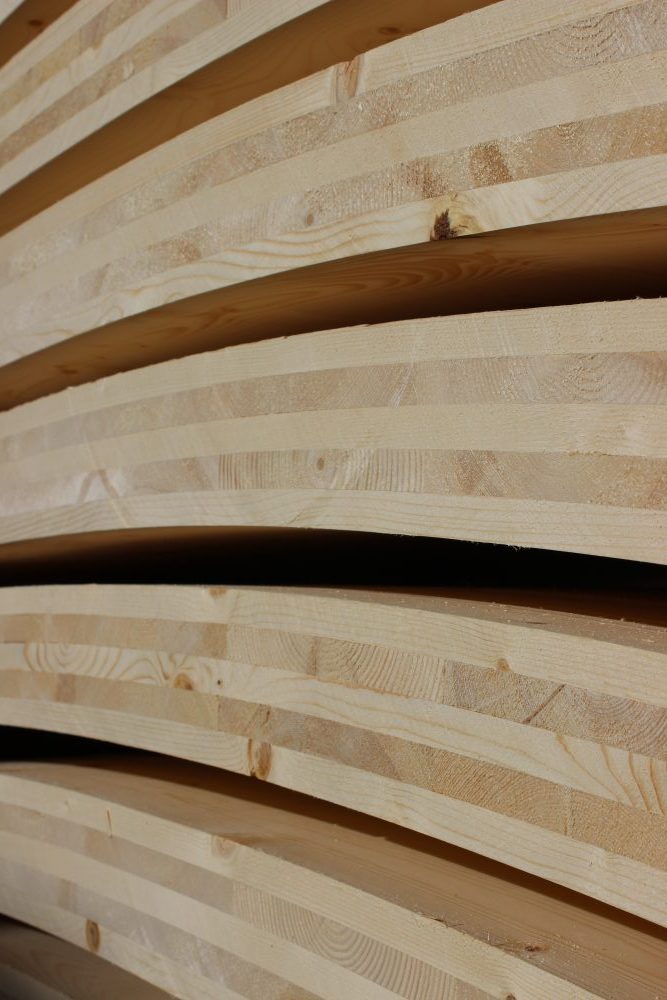 Advantages:
Short erection time
high degree of prefabrication
Optimum structural properties with biaxial load transfer
Ideal for multi-storey wooden buildings
High insulation and insulating function
More living space thanks to low component thickness
Pleasant and healthy indoor climate
insulates in summer, stores heat in winter
Ecological construction
Due to the high proportion of wood in the BSP, a lot of CO2 can be stored. Compared to other solid construction methods, the production and processing of cross laminated timber elements requires little energy. It thus contributes to permanent CO2 storage and minimization of the greenhouse effect. The wood we supply comes exclusively from sustainably managed forests and can be recycled at the end of its use.
Discover more wood materials